Kingfishers and The Seven of Cups
August 17, 2011 with awareness to December 2011
The magnificent Kingfisher is a bird that I have always found fascinating and fun. Greek Mythology states that Ceyx felt the great need to visit the Oracle at Delphi and against his wife's better judgment, set off on the ill-fated voyage. Halcyone dreamt of his death and rushed to the sea where she found her husband's body washing ashore. Before she succeeded in killing herself the God's turned her into a kingfisher. So great was the love between these two that her husband too became a kingfisher. Kingfishers represent great love to this day. I knew this story as I sat on the beach listening to two families of kingfishers whizzing back and forth across the channel between the two islands. I wondered, what message about love am I receiving here? Like many of the messages I received on this trip it has taken quiet time and deep reflection to fully understand. As a matter of fact this message had been coming to me in bits and pieces for some time. The card for what does Kingfisher want me to know was the Seven of Water (or Cups) in the Gaian Tarot. It shows a man drinking deeply from one goblet as six others sit unused. The colours are blue and white in this card, much like the striking Kingfisher. The affirmation for this card is "I open my whole heart to the dream". What then is my dream, I ask? What am I leaving in the other cups? What does 'Love got to do with it' as the song goes? And then there was the light bulb moment with the full glory hallelujah chorus! I realize that my great fear about trying to love again is clouded by the marriages that influenced me the most. Those were the marriages of: my parents, my in laws and my own marriage of thirty years. All three of those marriages had a great deal of bickering, imbalance, and yes fear. Fear to speak your truth, fear of going it alone, and fear to own your power. That is what I think of when I think of marriage and no, it's not very nice!


Majesty of Nature: Sitting in awe of all that Nature offers! A Minke whale is blowing in the distance. North is Alaska. And I am witness to it all.

This awareness began at the Readers Studio Conference in April of 2011 at a class by the Amberstones on Love in the Tarot. The card that came to me representing how I feel about love was the Five of Pentacles card. My partner in the exercise said, "That's not very good now is it?" in a very kindly way. I thought that the card was speaking to my feelings of loss and fear resulting from being a widow. As the year has unfolded, I realize that the fear of loneliness and loss goes right to my childhood. I felt that this was the fear, grief and anger that I was releasing to the roots of the 1100 year old Red Cedar the day before. Perhaps by finally releasing those feelings so deeply, I opened the portal to see the next choice, the next cup for me to drink from.
Seven of Water from the Gaian Tarot: What is your dream? How can you choose it now?

On this quest I witnessed many relationships. What I saw was the deep understanding it takes to feel secure and loved in a relationship. I knew on an intellectual level that this type of love comes from feeling secure in your own self. Bearing witness to partnerships that grew from strength rather than fear was illuminating. I realized that up until now, I had relied too much on my perception and personal experience of how to love. I did not know how to love fearlessly. The chosen cup must be one of loving from a place deep inside my own well of contentment, self-love, joy, and courage. I left behind the fear of love that comes from a Five of Pentacles mindset to fly free like the wild dare devil Kingfishers. What was learned must be unlearned. Opening my heart by opening to the dream is something I never thought possible. Better late than never I guess!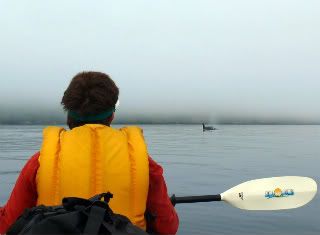 From the bow of a kayak an Orca looks like an amazing creature, don't you think? We can realize any dream if we let go of our past misconceptions.