Humpback and The Four of Fire
Thursday August 18, 2011 with reflections to January 1, 2012
The humpbacks may have eluded us yesterday but nothing could prepare us for Thursday's events! We began the day paddling through a network of small islands in pretty deep fog. Today, I paddled with Gillian, co-owner of Pacific Northwest Expeditions at
http://www.seakayakbc.com/main.html
and was very grateful for her sharp eye and chattering biology lesson. I would have missed so much had she not shared so willingly. The highlight of the morning was the plump mauve starfish clinging to the wall of the cliff waiting for the tide to return. We saw many seals resting on rocks that were almost invisible to the untrained eye. Their colouring matched the rocks so well.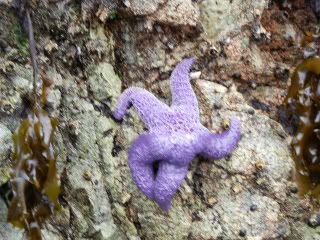 A very mature Starfish, clinging to the cliff as the tide recedes. Looks like she is walking to me!


 And birds! Ducks with horns called Rhinoceros Auculets that are native only to this small region of Canada. The paddling was misty and yes mystical. We had lunch on two large out crops of rock called White Cliffs with a few trees and lots of salal, Indian paintbrush, false lily of the valley, heather, stonecrop, strawberries and Eagles! This is where I received my Eagle feather. A pair of Eagles entertained us by flying in and out of the tree on the adjacent outcrop of rock. It was right about here that the battery on my camera died. The fog finally burned off and we could hear loud booms in the distance that no one could quite explain. After lunch we set out to return to camp. Here we were in much more open water than any of our previous paddles. There were many whale watching boats, fishing boats and our three kayaks. Talk about feeling a tad vulnerable. Suddenly, a humpback breeched about four times. Wow! It happens so fast that you really have trouble taking it all in. One Humpback slapped its tale as it dove. Slap is a huge misnomer. For this was the source of the sound we heard earlier. It sounded like thunder aided by dynamite. BOOOOOM!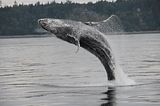 One of the breeches we witnessed by the local Humpback whales. It is important to study sound and breath when receiving messages from whale.


There were at least a dozen or more whales evident all across the strait. It was so exciting. Finally Brian suggested that we paddle a little closer to shore to get out of all the traffic and for safety reasons. It sounded like a very wise idea to me. The Minke cruised by us again. And as we were getting close to shore a humpback surfaced not far from us. OH! Wow! And it was swimming right for Gillian and I. Had this happened on the first or second day, I think I would have panicked. By now I realized that these magnificent creatures were quite happy to avoid us. In slow motion the whale dove. Its magnificent tail tipped up and slid silently beneath the waters. That same tail that shook the strait could disappear without a sound and barely a ripple! At about the same moment Gillian was telling me to look over the side to see the whale's footprint or shadow. I did in stunned silence. Here we were in a twenty foot kayak with a forty foot forty ton whale beneath us. We did not speak. The magic of the moment slid past as the whale continued on her way.

After surfacing just in front of us, this huge creature slipped effortlessly beneath the surface and swam under our kayak. That is my shoulder as we wait in our kayak to see what Humpback is going to do.

The card for what does Humpback want me to know was The Four of Fire, from the Gaian Tarot. It shows a woman in a ceremonial ring of candles. She is feeling her power as she receives energy from the earth and the sky. Her jaw is extended much like a whale as it feeds. She is. I am. If I am to know the beauty of my own power, passion and ability to love, I must be open to its magic. The affirmation for this card "I am strong and courageous, and have the power to accomplish anything I choose to do." I met the whale and it gave me courage to dive deep within my soul and heart and ask for what I want. Whales show us how to find balance and to breathe in life. Whale asked me to listen to the sound of my own life and find its rhythm. What do I want to breathe in at this stage of my life? What is my power now? How am I meant to use it? Questions from my magnificent quest stir within me now on the first day of 2012.

The color orange catches my eye in this Four of Fire from the Gaian Tarot. I am aware more than ever of the need to be very careful of what I create in thought, word and deed as it influences all around me and beyond.